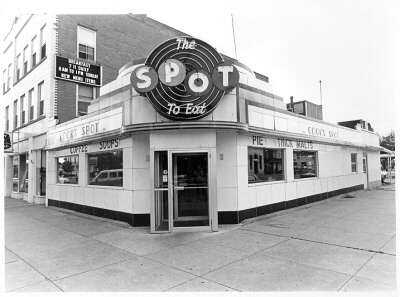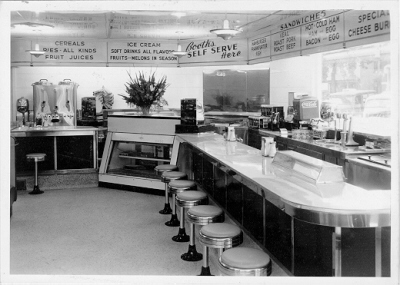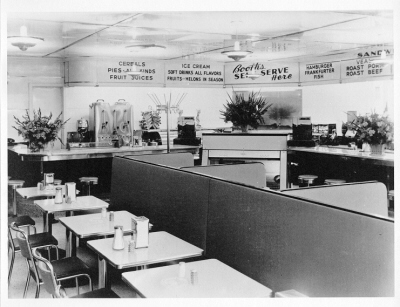 My Memories of The SPOT!
Click Here to go to "Add My Memories of The SPOT!".
1930s to 1950s – Rose Ann (Sailor) English – [email protected] – My parents told me that my first restaurant experience was at The Spot in Sidney (where we lived at the time). They told me that when they saw us coming in the door they got out the high chair for me. That was back in the late 30's to early 40's. In the 50's that was the only place to go for our favorite breaded veal tenderloin and frosties (the original).
1950s – Shirley (Clinehens) Ashabranner – [email protected] – Growing up in Sidney my family always frequented the Spot. Mr. Hepler was the owner when I was in the old Sidney High School. It was fun going there after school and getting the frosties and cokes and playing the Juke Box. We always went there after football games and movies as well. I would save enough for my favorite cheeseburger. It came wrapped in a square of paper that said. "A hamburger from the Spot, with a pickle on top, makes your heart go flip pity flop." Wish I had one now, along with, of course, Old Fashioned Cream Pie. I have tried to duplicate that darn pie, but to no avail. Guess I will just have to keep coming back to Ohio from Florida to get "my fix." I too stop at the "Spot" on the way from Dayton airport and once carried three of those cream pies back to Florida with me. It is like being in a time warp when I go there and I look forward to my next visit.
1958 to 1964 – Karen (Reish) Ver Wayne – [email protected] – My fondest memories are junior high and high school. We always walked over to the Spot after The Teen Canteen Dance at the Methodist Church on Saturday night. Everyone always went to the Spot to see who was there and who was going to be driving by. The same after football and basketball games. This is the place where my now husband and I flirted with each other for many weeks from afar before becoming a "couple". After years of coming back to visit and going to The Spot I was glad to see the décor return to the 60's rather than the blue ducks on a wallpaper border. We have a restaurant here in California called Ruby's Diner which looks like the Spot. We like to eat there because it reminds us of our home town.
1950s to 1960s – Danny Bulle – [email protected] – Always stop at The Spot when I come home from Wisconsin! The pies are still the best, and there is nothing like the tenderloin sandwiches. Remember, cruising Sidney thru Frisches and stopping at The Spot for a burger and chocolate malt. In an ever changing world, The Spot has been an anchor, remaining a constant, never changing, and always The Spot to go.
1950s to 1960s – Terri Kerrigan Bunker – [email protected] – The Spot was the only "Spot" in town – every teen ended up there after any evening activity. Always reminds me of Arnolds on Happy Days! Those were the days…
1960 to 1964 – Connie Packer Helman – [email protected] – "The Spot" was the place to go! Every teenager went there after ball games, dances, movies or just to have a place to go. If you couldn't drive yet, this is where you went to call your parents to come and pick you up. The management allowed kids to use the phone to call their parents. Sometimes we didn't have enough money to buy a hamburger or fries so we would pool our money and share but at least we were there! I still go to "The Spot" with my kids and my grandkids. What great memories!
1960s – Penny (Sullenberger) Coleman – [email protected] – My dad, Charlie Sullenberger, worked at the Spot in Sidney, Ohio, where I was born and raised. He made, among other things, the Old Fashioned Cream Pie my mother loved so much. I spent many Friday nights at the Teen Center, then across the street to the Spot. Whenever I go back for a visit (which is far too seldom), the Spot is a must stop.
1960s – Diane Blank – [email protected] – My memories of The Spot were from Piqua, not Sidney. Unfortunately, since the Piqua location closed, I now go to Sidney when I return to Piqua for my high school reunions. My Dad, who was a business owner in Piqua, knew Jack Heppler who owned the Piqua restaurant, so we thought that we could get the recipe for "the pie" years after we left the Ohio restaurant. Mr Heppler was steadfast, however, and would not give it up. Fortunately, I had a high school friend who was close to someone who had worked there a long time and provided the recipe. It never tastes as good as it does AT The Spot though!
1962/1963 and Current – Mary (Loveley) Heikkinen – no email – My family moved to Sidney in 1961. The SPOT certainly played a part in allowing me to "fit in" in a new town. I loved going to SHS and knowing my neighbors!! The SPOT was a regular stop-day or night. I have stopped many times (both alone and with my children) throughout the years to get a "Big Buy" or a piece of Strawberry Pie!! (and to take a "nostalgia trip" to a sweeter time). The SPOT is not only a piece of Americana, but a part of my memories of a period that is near and dear to me. I'm always so glad to see that it's still there!
Late 1960s – Jan (Hittepole) Minniear – [email protected] – The Spot was a great place to hang out after going to the show or the Teen Center. Several boys I went to school with had a crush on one of the waitresses there…….who just happened to be my older sister, Carol. What great memories!
Late 1960s – Mark Borchers – [email protected] – When I was growing up in Sidney, the Spot also had drive-in service in the lot behind the restaurant. We kids thought that was fun, but we also enjoyed getting to eat inside, where we would flip through the tabletop jukebox things during the meal. I took my kids back to Sidney to see the town and to eat at The Spot a few years ago. Still great food, the place has not changed very much.
Early 1970s – Barbara Grimes – [email protected] – I work with a friend that constantly talks about The Spot………her favorite memory is a cream pie. Since she now lives in Maryland, and gets homesick from time to time, I would love to be able to surprise her for her birthday in August and make this pie for her. Would you be willing to share this recipe with me? (UPDATE: Barry and Michael emailed Barbara and told her they could not share the secret recipe with her. However, in the future they hope to sell The SPOT's pies on their Web site. So hold-on Barbara, soon you will be able to order a delicious Old Fashion Cream Pie from The Spot through their secure server on their Web site, and you and your friend will be enjoying an Old Fashion Cream Pie in Maryland!)
1973 to 1975 – Dan Shaffer – [email protected] – I have many fine memories of The Spot. I worked there as a stockboy for a good two to three years. I am now retired from the army and am living in upstate New York. I would really love to have a tenderloin and a piece of that cream pie right now. I can remember cleaning the meat cooler after Dale would cut meat. I can almost hear him yelling, Dan this cooler is not clean try again. Or on Saturday morning cleaning the windows after a Friday night football game. Or putting up the daily special on the carport in a snowstorm. To many good memories to mention. All I know is I will return some day soon to have a feast at The Spot.
1970s – Tom Counts – [email protected] – Although I now live on the Florida gulf coast anytime I come home one of the top things to do on my list is stop by The Spot for a tenderloin sandwich and a piece of that famous old fashioned cream pie. It was nice to know that on those cold wintry days that you could always stop by for a slice of pie and a coke. I have lived and seen many cities in my travels but going to The Spot is still a favorite for me and my dad when I come home to visit. I have yet to find the taste of The Spot's old fashioned equaled anywhere! Tom Counts, Dunedin, Florida
1970s to 1980s – Scott Kuna – [email protected] – Saving my lunch money from Bridgeview Middle School and getting a burger or fries after school. But the best treat was the Old Fashion Cream Pie. I wonder if it taste the same. Barry, hope your doing well, Scott.
1992 – Paul Barga – [email protected] – I remember going out to eat with my parents after I got out of foster care. My family had a great time there.
August 22, 1999 – Scott Phelps – [email protected] – I returned to my hometown of Sidney for the first time in nearly 30 years. When I arrived in town (at 7:30 on a Sunday morning) after flying all night, the very first thing I did, before anything else, was stop by The Spot for a Coke and piece of pie. It didn't matter to me what time of day it was. The important thing was doing it. And right away. I am now safely back to my "day job" of being the Press Secretary to the Mayor of Phoenix Arizona. And on my desk is my souvenir from that memory-filled morning: A green, spotted, paper cup from you know where.
December 6, 1999 – Duane Mullen – [email protected] – Still fresh in my memory is the scrumptious tenderloin sandwich I had just yesterday from The Spot. Dine in, drive in, carry out, The Spot is still one of the best eateries in America.
Memories really began in the '60s. Just about old enough to hang out and old enough to get into trouble. And there was The Spot . . . linger over a Coke, hang out, and if you got loud, Dale Anspach would let you know what trouble was.
"Up the road a piece" were bright lights like Eagles Park, Silver Gardens, Shady Park, Edgewater Park, just about all the trouble you could hope for. And then hope you could get back to Sidney before The Spot closed. Coke, coffee, cheesecake with cherry sauce, and pass around the mints to take beer and cigarettes off your breath (HA!)
The Spot, or kitty corner across the way on the Court Square after being run out of The Spot, was THE place to meet before an evening started, half way thru the evening as your cruising gas was about gone, and at the end of the evening when it was too early to go home. See and be seen. Outrageous tales of combat (mostly true) and heated tales of love (mostly not true), all for the price of a Coke and fries (or onion rings; yes those lightly breaded, world-class sisters to the pungent slices Dale would pile on a Spot hamburger).
As the years have passed (drum roll here), many things at The Spot have changed: decor, owners, and, fortunately, very little of the menu. If you've hung around there enough, you'll notice there's not a great turnover in employees, either. Through marriage and children (one worked at The Spot for nearly seven years, and the other at the sister store – Frisches) I've watched The Spot continue to be a great place for young people and adults to meet and talk, to grab a bite at lunch, to eat before the movie, to sit in the drive-in when too grubby to go inside (that must have been the '70s or '80s because nothing seems too grubby today), or to just run down to pick up a carryout order.
Did I mention bean soup with enough ham in it to make a sandwich . . . just chop up some onions, please, "on the side".
And holidays. We can't forget the holidays. Right there next to turkey and dressing there's always one or two or three of those extraordinary Spot pies.
The Spot. It's been there my entire life. There has to have been a million pounds of hamburger and a river of old fashioned crème flow out of those doors. And yes, that was a scrumptious tenderloin sandwich I had from The Spot just yesterday.
August 28, 2004 – Salm Morrow – [email protected] – PRESIDENT GEORGE BUSH ATE LUNCH AT THE SPOT TODAY!
2006 – Kimberlie Willman-Federer – [email protected] – I grew up in Sidney with my family but after we moved when I was 13, we hardly had a chance to visit. My fond memories of growing up are of the awesome pies and hamburgers. We were back in town for our cousin's wedding Jacquie Willman and had the opportunity to come and eat several times. My husband Kyle had never been to Sidney having been born and raised in Florida, so this was an experience for him. Thanks for the fond memories of my childhood. I was lucky to let me oldest daughter Karli experience a little of what I had at her age (she is now 7).
June 15, 2006 – Philip Thomas – [email protected] – My first time to "The Spot" was with my "at the time" fiancé. We had gone to visit the family and, everyone wanted to go to THE SPOT for strawberry pie. I am not one to eat Strawberry pie so I had Black Raspberry. From that moment until now, when I think about pies, I think about The Spot. I was like walking into another time. I took pictures and sent them to my Mom and she said it reminded her of the local restaurant they used to hang out in as kids. Thanks for a bonding experience and one I will always cherish. The first place I ate in spouse's hometown!
December 10, 2007 – Barbara Kinsey – [email protected] – I got a chance to stop in for just a few minutes on Monday, but what great minutes they were. I have lived in Florida for over 30 years and have not had a chance to visit Sidney in quite a while. My grandfather, Ray Anderson would tell me stories when I was a little girl about how he and Joe Cook worked in the restaurant and about rebuilding it after the fire. He and my grandmother would make the same delicious burgers and bean soup at his home when we would come up from Cincinnati to visit. When I would come to visit them for a week in the summer I always begged to go to the Spot for a shake. My parents, Dick and June Wolf would always talk about going to the Spot or the Purity. It's as though both places have always been a part of my life. It was nice to see all of the history displayed and wonderful to see how well taken care of the restaurant and traditions are. It's good for the heart to see that some really great things don't change.
November 12, 2008 – Wade Jennings – [email protected] – Went to the Spot for the first time with friend from Sidney and loved the the place. We sat in the booth that President Bush used and had a great time in that wonderful old atmosphere. Sure brought back memories of our old town eatery that has long been gone. Great service and food with happy people! We will be back soon!
April 19, 2008 – Pat (Jones) Turney – [email protected] – Growing up in a small town has it's pluses and minuses (ie. everyone knows everyone a plus and everyone knows everyone a minus.) One fond memory of the spot is hanging out there after the football game or after riding around in your car. I've been gone now for 28 years but return several times a year to visit family and a stop at the spot is always on the agenda. My three kids, all grown now have the same urge when they come to Ohio. They're hooked too and the spot is a must for them. Our next trip up will be in two weeks and I'm looking forward to our visit to the spot for a tenderloin and chili and memories of days gone by. Oh and don't forget the black raspberry or strawberry pie.
May 24, 1996 – Robert M Burns Jr. – [email protected] – The last time my Grandfather, Harry L Wagner, and me sat down to eat at The Spot before he died of prostate cancer. Our normal meal, Cheeseburger and fries. I would have a Coke, and he would have a coffee. I take my kids there now, and they love their cheeseburgers as well. Of course, now I get a Big Buy and an order of Mushrooms.
Late 1960s – Early 1970s – R. Michael Johnson –  [email protected] – My father, Richard C. 'Dick' Johnson, passed away a few years ago. And I have long since moved from the Sidney area. However, one of the fondest memories I have of my childhood is going to The Spot with Dad. Every year around my birthday, I would receive a special birthday club certificate in the mail. Dad would take me to The Spot and we would share the kind of father and son moments that stay with one an entire lifetime. Whenever I venture back to Sidney to visit my mother, I am reminded fondly of those times with Dad at The Spot. Thanks for giving a little kid from Bennett Street a memory that has lasted four decades.
November 25, 2009 – Pete Boyd – [email protected] – I was in Sidney for 3 days to work. I was looking for a good hamburger, cooked after I ordered it. I found the spot by total accident. My Lucky Day! I had a burger and a chocolate malt. I was hooked. The same the next day except we added some fries. The last day we had an OSU burger (even though I'm from Michigan) It was great. The people, the food, the building all great and fun! I hope I can come back there some day to your beautiful, nice town.
1950's – 1970's – Diana Burchett Hayes – [email protected] – I STILL love the SPOT, although it's been many years since I've been there. When Mom was still alive and I'd visit her, I couldn't wait to get my hamburger and piece of pie! I now have a colorful framed poster of The Spot on my family room wall! My grandmother baked pies for the restaurant in the 40's or 50's. Does anyone remember the tokens The Spot gave out? A favorite memory is of my dad, having collected around 30 of them in his lifetime, suddenly remembered he had them one evening and ordered 30 hamburgers, paying for every one of them with a token! He came home laughing, recounting to us the look on the faces of The Spot's employees! Next time I'm in Sidney, I'll see you at our favorite Spot!
From 1960 to 1973 – Doug Couchot – [email protected] – The Spot in Piqua was a couple of blocks from my parent's house. It was also close to Piqua Central, and very popular then. That was the big hang out place. They had the best hamburgers, and nothing came close to their Old Fashion Crème Pie. I used to have lots of relatives in Sidney, and sometimes went to that one. I've lived in Florida for many years, and nothing comes close to the Spot.
Early 1970s – Penny Simes Willis – [email protected] – My memories of 'The Spot' are when I used to stay over night with my Grandma Zimpher and every Saturday morning, we would walk to downtown Sidney to shop and have lunch at The Spot! It was the only place to get the Best Hamburgers in town! She and I had the best times together, sitting inside, enjoying our food and talking. That was our special time together.
My Grandma Simes use to go there just to get a bowl of Vegetable soup, her very favorite! When she went into the nursing home, my dad would go get her on a Saturday and take her to get her bowl of soup. Those were special times for my dad and his mother.
Sadly both of my grandmas have passed away, but I will always cherish these special memories, in fact, every time I drive by there, I think of them and how much they enjoyed it-always brings a smile to my face 🙂 I found out recently that my own Father Lowell Simes, worked here when he was young man. He said the appearance has changed, but the food is still the Best in Town! Thanks for keeping 'The Spot' around all these years!
1930s – Verna (Martin) Bitzow – [email protected]  – My first memory of Cook's Spot (owned and run by Joe Cook and Whitey Henman) was in Piqua in the 1930's, crawling up on a stool and ordering a "hambooga" since I couldn't pronounce "r's" and they wouldn't fill my order unless I ordered it myself. Then on to live south of Sidney in 1941 and the trips to the Spot where I had my first cheeseburger and a frosted malt. Oh yes, then high school and those lunches at the Spot and a stop at the Olympia for fudge. I now share a recipe for old fashioned cream pie that I am told is better than the Spot's. I think it is because I put a lot more filling in them, and lot more calories but the atmosphere is missing!
Late 1940s to 1960 – Roger Shepherd – [email protected] –  I lived out in the country, Rural Route 3 and every Saturday my brother Bill and I would get to come to town and go to the movies. There were two theaters then. We called them the little show and the big show. I think the "Big Show" is still there, it was really the Capital Theater.
After the show my brother and I would walk to the spot to meet up with my Grandmother, Clara Shepher, who by then had finished her weekly shopping. I remember well the great hamburgers, pies and shakes.
When the Orange Township School merged with the Sidney school district, I was going into eighth grade. I then attended Sidney High School (the old one) and we were permitted to leave campus for lunch…it is an easy guess where we showed up most days. I remember when the spot sold to Mr. Hepler… we all thought it was going to be the end of a great era…it was not…tradition was maintained.
My dad worked at The Spot back when Whitey Henman and Ott were there. They later opened Whitey and Ott's, a restaurant just beside the jail. My Grandmother cooked for them and made those veal sandwiches. I could go on…
1950 to 1954 – Tom Applegate – [email protected] – Sidney High School. The Spot was the place. The French Fries, chili, pork sandwiches and frosties. I visit there every time I visit Dayton with my oldest brother. Had many good times at the Spot.
1957 – David Jamieson – [email protected] – The picture has to be 1957 or 1958 and the Cadillac is "Buck" Blake's which his father allowed him to drive it to the prom. I return to the Spot every time I return to Sidney. It was the place to be!
1950 to 2002 – Jeaniece Servis Bumgardner – [email protected] – I was born and raised in Sidney, In 1952 I met my high school sweetheart, Art Bumgardner, we would stop at the Spot every Friday night after the football game and have a Spot hamburger, fries and a coke. Art played trumpet in the marching band and the dance band. After we were married and moved away when we came back to visit my mom and dad (Helen and Shorty), Art's mom and dad (Doris and Herb) a trip to the Spot was always part of that visit. Later after my dad died and my mother married Joe Eshman we would visit them and of course always stop at the Spot sometime during the visit. My favorite treat after the famous Spot hamburger was black raspberry pie and coffee, unforgettable. My kids and their families still talk about the trips to Sidney and about The Spot hamburgers…
1940s to 1950s – Jim North – [email protected] – We were to poor to eat out often, but when we did it was always SPOT hamburgers. I don't get back to Sidney (Albuquerque, New Mexico), but when I do the SPOT is a must stop. Frisch's was another ""Drive thru" hang-out…..
1960s to 2010 – Carlyn Bowman Gunnell – [email protected] – Always favorite place for best burgers, tenderloins & outrageous pies. Was the favorite place to end a date, now first place to go to when we're home to visit. Definitely still the best place to meet & greet. Especially wonderful that little has changed over the years, sure hope my kids & grands will be saying the same thing 50 years from now!
1950s – Darrell Webb – [email protected] – EVERYBODY WENT TO THE SPOT WHEN THEY WERE DOWNTOWN. BEST HAMBURGER I HAVE EVER HAD I WORKED IN DAYTON FOR 30 YEARS AND WOULD GET ORDERS FROM PEOPLE I WORKED WITH FOR HAMBURGERS AND PIE FROM THE SPOT EVEN TOOK PIES FOR CHRISTMAS DINNER TO WORK STILL GREAT PLACE TO TAKE GRAND KIDS THEY LOVE IT.
1960s – Jo Young Hall – [email protected] – I remember the Spot as being the place to meet my friends. We loved that place and I still stop in occasionally. My grandpa had Hetzel's Confectionery just across and down the street a few doors, and when I had to spend time there as my mom worked there, I would go to the Spot and visit with my friends. I love the new decorating they have now. Just a neat, fun place. We would go to the sock hops at the Methodist Church and then go to The Spot! What great memories we have of those days. It has always been there for us and I hope it is there for many more generations to come for my grandchildren!!
Present – Warren Koogler – [email protected] – My wife and I have a daughter who works at the Kettering Police Department. Occasionally, when she comes home, and the officer's are aware of it, she is requested to return with a whole bag of goodies from The Spot. The Famous Spot name sure gets around.
December 10, 2011 – Uncle Cracker – [email protected] – I took a picture of my 82 year old mom eating 1/2 of a pork tenderloin sandwich and tagged it to her phone number. The half sandwich is twice the size of her noggin. She would have have had to dislocate her jaw; like a snake, to eat half a pork tenderloin from THE SPOT.
1966 to 1969 – Sara Wilson Gamble – [email protected] – My family moved to Sidney from Texas in 1966, and The Spot quickly became one of our favorite places.  We had gone to The Spot a couple times before when we were vacationing up there and staying with some dear friends.  Our moms would load up 8 kids and take us there for those good hamburgers.  The breaded tenderloin sandwiches were always delicious.  My favorite pie has always been the old-fashioned cream pie, but the strawberry runs a close second!  We've been back for several visits in the years since, and The Spot is absolutely a "must go to" place for at least two meals!  LOVE The Spot!
1981 to 1983 – Dave Ross – [email protected] – After owning THE SPOT for a year, Bob Eilert decided to start a men's softball team, installing himself as first baseman, his son as batboy, and John Harman as head coach, all with excellent results.  We definitely had fun including road trips to Tiffin, Bascom, & Chickasaw.
1960s – Tom Crusey – [email protected] – Growing up in Sidney everyone hung out at the Spot. It was the place to see friends and to be seen. I moved away from Sidney in 1964 and back in 1972 and away again in 1983. Whenever I would return for a visit, we had to eat at least once at the Spot. Every time I would see at least one person I knew. The last time there was the September 2011, and sure enough ran into an old friend. It's hard to believe but 47 years after I moved away and still seeing people I knew. I truly love living in Florida, but do miss the tenderloin with everything sauce, chili and old fashioned cream pie. Yumm.
1952 – Dan Simes – [email protected] – Today Nov. 8, 2012 we celebrated my Dad's 85 Birthday at "The Spot" where back in 1952 my dad worked here. This was when the Cooks owned The Spot.  He was telling us his memories of how the restaurant was back then. It is quite interesting hearing how everything was back then.  My memories are of my grandma and I coming over to the Spot for breakfast when I would spend the night at her apartment over the theater just down the block. Unfortunately she is not with us now, but We and especially Dad had a great time tonight!  Thank you for being here 60 years later so my Dad could celebrate his 85th Birthday at The Spot!  By the way the pumpkin pie was delicious! Kind Regards, Dan Sime
1990-2010 – Sonya Thomas – [email protected] – I lived in Sidney for many years with my parents Ray end Lois Thomas and we moved to Tennessee where I currently live. I have many memories of the spot with my family actually a few family members worked there (Sheila Todd and Wanda Russell) many years ago. I still taste the pies but the hamburgers can not be beat. I do not make it to Sidney very often but when I do my favorite place to stop will always be The Spot not just for the food but for my memories as well. I think my first visit I remember I was 8 years old and my last visit was last January 2013.I love the food and I hope to visit again soon.
1980s – Brenda (Wiley) McGarry – [email protected]  – I lived in Sidney for several years with my grandparents. Richard and Evelyn Wiley. My Grandfather was the post master general and my Grandmother owned a shoe store. We would go to The Spot to eat lunch often. The OLD FASHION CREAM PIE is the boom. Their hamburgers are my favorite to this day. I found out not to long ago that my dad was a cook at The Spot while he was growing up in Sidney. I still go up sometimes and when I don't my son whose father lives in Sidney still goes very often and I will always give him money to make sure that I get a old fashion pie to go. I hope it never changes as this is one of my fondest memories of living in Sidney.
1970 to Present – Timothy Schwaiger – [email protected]  – I have always loved The Spot and when I come home I make my brother go there to have a hamburger. I also love the bean soup. My most "bad memory" is of my good friend Bud biting into a hamburger and trying to (jokingly) return it as a bad one but no one fell for it. I miss the music boxes and wish they would come back. I also remember going there while at the Teen Center like Jan mentioned before. I actually visited "The Spot" in La Jolla California but doesn't hold a candle to Sidney.
1965 to 1969 – Cynthia Cotterman Goodwin – [email protected]  – My parents, Victor Cotterman and Virginia Fair Cotterman, both were born in Sidney. They took us to The Spot a lot. We loved their hamburgers. I loved playing the penny music boxes they had on the tables. I now live in Prescott Valley, Arizona. Thanks for great memories.
1939 – Cindy Wiley – [email protected] – My memory is of my mom and dad, Evelyn and Dick Wiley, telling me how they met at the Spot. My dad was working at the Spot. When my mother came in with some friends, he was taken with her and on a order ticket asked her if she would go out with him. Well she got permission from her parents and the rest is history. They were married in May of 1940 and stayed that way until mom died in 1991, 3 months shy of their 50th anniversary.